Founder's Message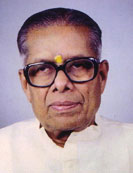 Mr.K.SANTHANAM
Shrimati Indira Gandhi College, an Unaided College for Women, has made rapid strides in the short span of two decades. The sole aim of the College is to empower women and make them economically independent.
With this primary objective, the College offers a number of Job-oriented courses specially suited for women including "Fashion Technology". The College also offers many Courses that will provide self-employment opportunities. The College has an excellent infrastructure and state of the art laboratories.
The MBA Course(AICTE approved) offered by this College is a speciality of the Institution.
The college has an excellent track record of many University ranks every year in all the courses.
Many of our old students are professionally well placed in India and abroad.
I have no hesitation in saying that one should be lucky to get admitted to this College named after one of the most dynamic Prime Ministers of the world.